by Mark A. Butterline of the USA
Readers of Dea Birkett's 1997 book, Serpent in Paradise, will have noted the many philatelic references in it. Perhaps the most intriguing philatelic reference is to an internal cover from Dennis Christian to Dea. If the cover survived it would be the first documented example of Pitcairn internal mail since Roy Clark's mailing to Bert Reeves, in his capacity as Miscellany editor, on August 22, 1968 (see page 7 of the June 1979 Log (Vol. 6, No.4)). In that particular case Roy dropped his letter in the post office slot, with Bert picking it up the following day. Thus Roy used Pitcairn internal post to save him the effort of walking all the way to Bert's residence (he was 75 years old at the time).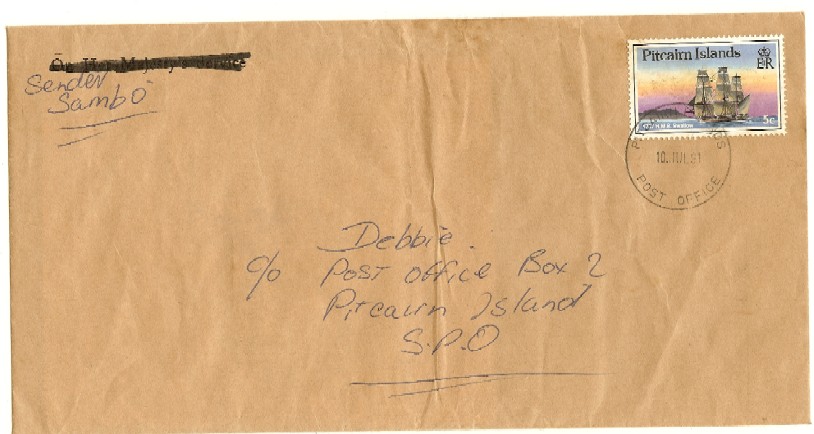 1991 Internal Pitcairn Cover
It can now be reported that the internal cover mentioned in Serpent in Paradise has survived and is still in possession of the addressee, who has graciously provided a scanned image for this article.
The story behind the cover is that rather than just present an ordinary note to Ms. Birkett, then postmaster Dennis Christian went to the trouble of enclosing the note in an envelope, which he then addressed and franked with a 5¢ ship definitive. He then cancelled the stamp before hand delivering the cover to the addressee' residence. The return address is listed as "Sender Sambo", Sambo being Dennis Christian's nickname. The date of the cancel is July 10, 1991.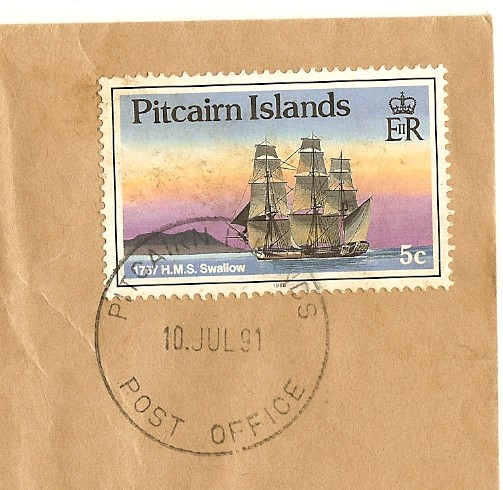 1991 Internal Pitcairn Cover - Detail
In addition to the fact that the cover is an extremely scarce example of bona fide internal Pitcairn mail, there are some unusual aspects to the cover, itself. First, is the fact that OHMS stationery was used, with the words "On Her Majesty's Service" crossed out. Another is that the cover is short paid, as only 5¢ of postage was affixed, when the internal rate for a letter (up to 20g) was 10¢ (as per the Pitcairn Post Office Ordinance of 1987). By rights, Dennis should have charged Ms. Birkett 5¢ postage due, but this did not happen.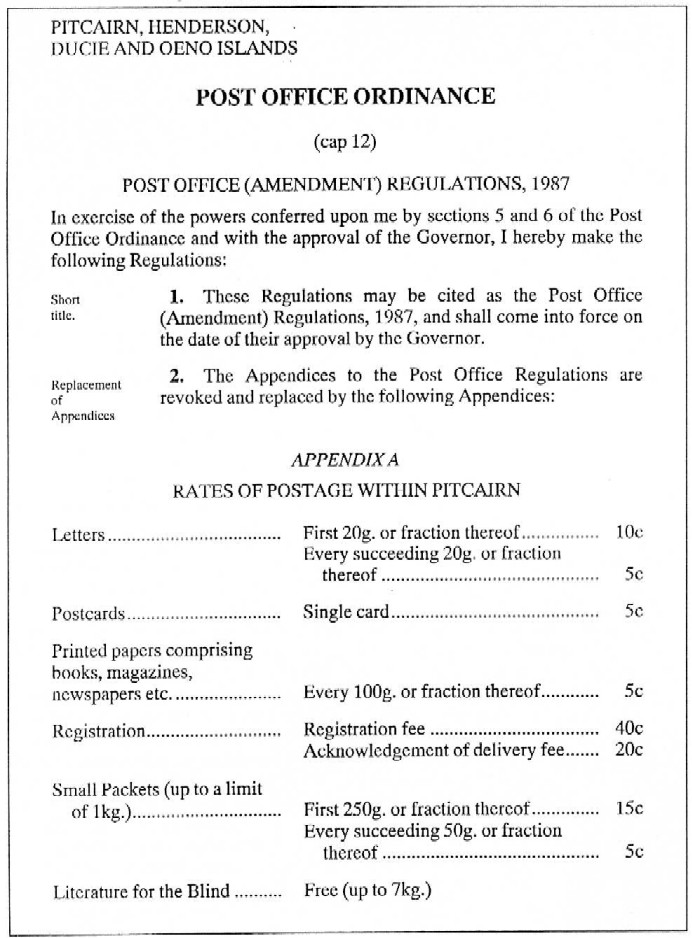 1987 Pitcairn Post Office Ordinance - Appendix A Rates Within Pitcairn
Webmaster's Note: Some folks may object to the online reprinting of a Pitcairn Log article about a communication involving the "Serpent" from the controversial book Serpent in Paradise. The inclusion of this article should in no way be interpreted as an endorsement of Ms. Birkett or her book. The above article is intended for postal history purposes only.